Samsung Galaxy Note 8 is a brand new flagship from Samsung, and it's the newest phone in Note series. It's a welcome addition to phablet market and represents a big rival to iPhone 8 and iPhone 8 Plus. Before we start the review, I can tell just that it's an amazing phone, with almost nothing not to like about it. More details about Samsung Galaxy Note 8 are in my review below.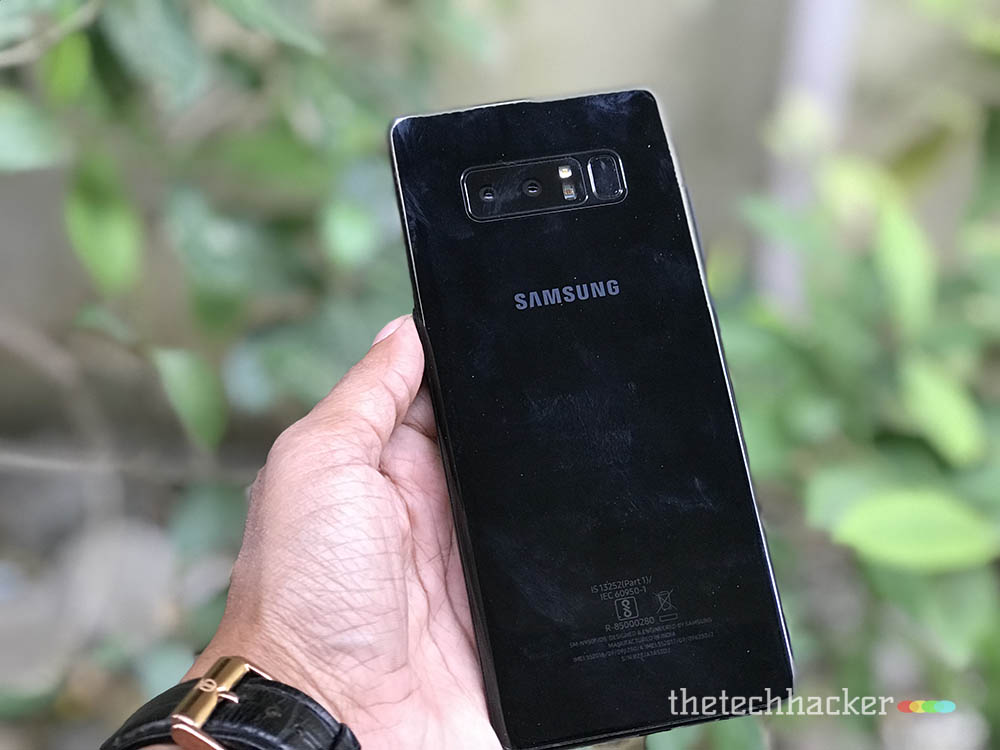 Design and Build Quality
While Galaxy S8 has round edges and is generally more curved, Note 8 brings back that square design, with sharper edges and square-shaped camera module. Although the phone isn't bezel-less, the bezels are very small, exceeding just about few millimetres at the top and the bottom, but nothing too much. Its aluminium frame and front and back glass are durable enough, although not that great compared to iPhone X for example, it still sustained a few drops from a hip-level height without any blemishes and scratches, so props to that!
Note 8 has a front-facing camera and Iris scanner at the top bezel, while the bottom part of the phone doesn't have any features, aside from being a home button. Thankfully, we HAVE 3.5mm headphone jack here. Oorah! It's located at the lower edge, along with USB-C connector, S-Pen, and loudspeaker. On the upper side, Note 8 sports a hybrid-SIM slot, so I expected a little more from the thickness, as it's 8.6mm thick, which isn't the thinnest phone I've ever seen.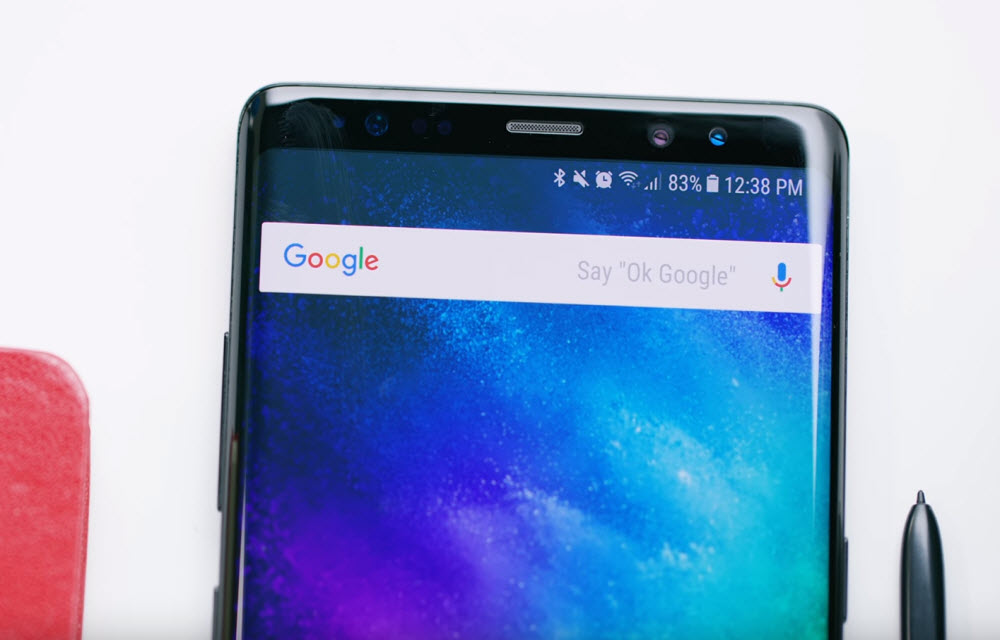 Display
Being a "Note" phone, you surely want to take some notes using Samsung S-Pen stylus, and because the screen packs 6.3″ in size, you'll have zero problems doing it. Aside from its size, there is a crystal-clear 2960×1440 pixels resolution, which is second to none on this screen. When in standard mode, the screen is damn good! You know, it's a classic AMOLED screen that Samsung is known for, with bright lighting, great colour accuracy, vivid colours and eye-pleasing visuals.
The text is very sharp and comprehensible, and web pages look great. The problem here is the weird aspect ratio of the screen, so you'll need to adjust videos and apps to take advantage of the screen, as most of them are made for 16:9 ratio. Even though the screen is very good in standard mode, I suggest that you often use "optimised" mode, as there are some battery issues that we are going to mention later. Other than that, the screen is the best I've ever seen.
Performance
Android 7.1.1 never worked so well on a Samsung device. It's blazing fast and opens the app in a matter of nanoseconds. The S-Pen works really amazing here, so you can use it for various functions like taking notes, initiate translator, view your notes and much more. The menu will open the same second you take out S-Pen from the phone, letting you take quick notes and save and share them easily. The S-Pen isn't just a simple tool for taking notes; it adds a bonus layer of increased performance and features.
For this great performance, Samsung went with a very popular high-end Snapdragon 835 CPU, or Exynos 8895 CPU which is available for some versions. Aside from that, 6GB of RAM will be more than enough for your needs, whether it's a demanding gaming or multitasking. Storage-wise, Galaxy Note 8 boasts 64 GB storage, so you'll most likely NEVER run out of space, as there is a microSD slot. Yikes! That's great! Galaxy Note 8 is one of the fastest smartphones available at the moment.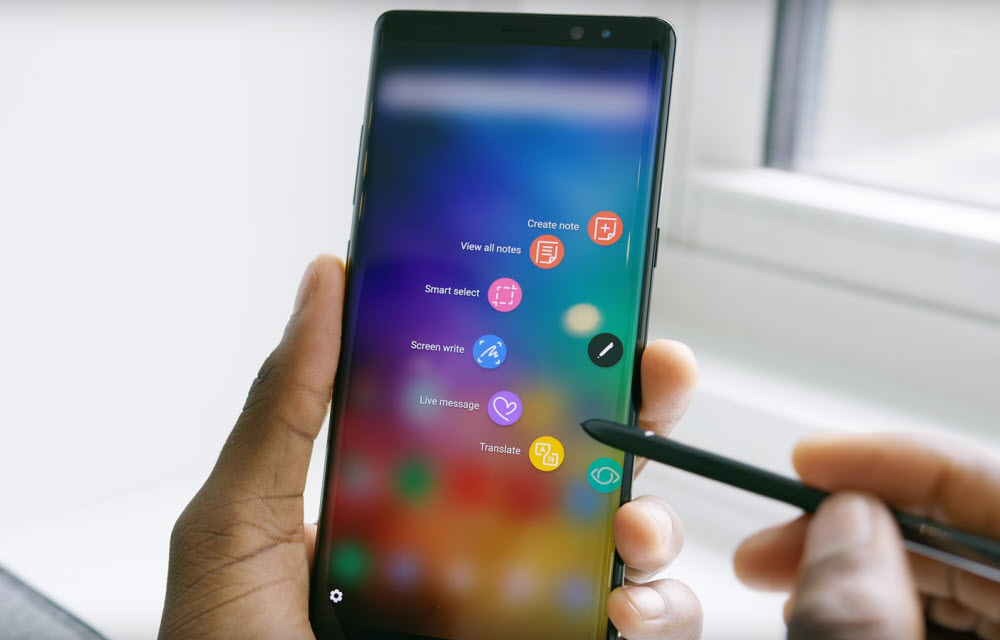 Camera
Galaxy Note 8 comes with a Dual 12 MP camera, capable of recording 2160p videos at 30 fps. Aside from a great video, that is saturated with colours and smooth, this camera is capable of taking high-quality photos, producing detailed and clear shots in almost every light condition. The camera software is also great and allows control of various factors like shutter speed, OIS, shadows, and such, and there is even a PRO mode, where you can go deeper into settings. Having a portrait mode, you can now take photos and blur the background, thus creating an Insta-worthy selfie.
In low light, the camera fares pretty well, although the shutter speed is reduced when taking photos. Usually, it takes almost two seconds before the camera adjusts to the lighting, focus and take a shot. The front-facing 8MP camera is also great and produces great selfies and even videos at 1440p. The camera is, generally a pleasant experience, and is below average.
Battery
This is the Samsung screwed up. Putting a 3300mAh battery in a phone with a VERY big screen and high resolution isn't going to help it either. Unfortunately, your battery will last very short and with moderate usage it didn't even manage to get through the day with it. And by moderate usage, I think about surfing the web, watching videos, playing games and taking some 4K videos and photos. However, power-saving modes that Samsung offers aren't that bad, so it should help extend the capacity a little longer, but as I said, it will not use the phone's full potential, which is a pity. In the end, I was very disappointed with battery and was hoping that Samsung will do a much better job like they did with Galaxy S8 in terms of battery. However, it leaves a lot to be desired.
Verdict
Samsung Galaxy Note 8 will cost you around $800, and sure, it IS worth the money. This is a beautiful phone, with great build quality, fantastic screen, and overall great performance. However, the phone is let down by its battery which is really a frustrating experience especially if you are leaving your home for a whole day and must bring a charger with you. Nevertheless, Galaxy Note 8 is one of the best phones for the price, and I'm comfortable enough to say that it's worth its high price. If you need a powerful phone for every day, don't hesitate; get yourself Note 8 and you won't have to worry for a few years, for sure!